CNHRPC Offices and Community Resource Center
From I-93 Exit 15 (North Main Street) or I-393 West, turn right onto Commercial Street.
Turn  right at the stop sign in front of the pond, and make an immediate
right into Horseshoe Pond Place. Drive around the back of the two main
buildings.
The CNHRPC offices are located on the side of the easterly building adjacent to the small staff parking lot (next to the tall smokestack).
The entrance to the Community Resource Center is located in the rear of the first (westerly) building with adjacent parking.
To leave CNHRPC and return to the highways:
Take a right out of the driveway of Horseshoe Pond Place and turn right at the Courtyard Marriott Hotel onto Constitution Avenue.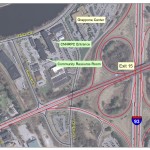 (Please click on map to enlarge)